Replace thatched roof
Over the years, techniques have changed, but thatched roofs are still constructed by hand. This requires the right expertise. By investing in quality, the lifespan of thatchreed is longer. Not only does the way of installing significantly impact this, but also the choice of the right thatchreed makes a big difference.
Thatchreed can be imported from various countries, but there is also home-grown quality thatchreed. To learn more about all the different types of imported thatchreed we offer, check out the "Our Reed" page.
Reason for replacement
Replacing a thatched roof can be done for several reasons. Hence, there is a functional reason, most probably because the thatched roof has reached the end of its lifespan. The lifespan of a thatched roof that has been professionally installed is often between 45 and sometimes 50 years (usually on farms).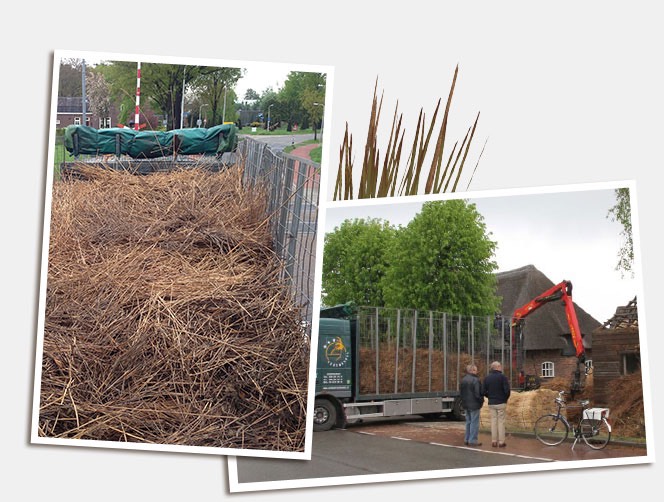 Yet the most common reason for replacing a thatched roof is ethical. Often, the end-of-life of a thatched roof is not even reached for ethical reasons. A newly maintained thatched roof instantly improves the appearance of a house, an essential aspect for many people.
Once the decision has been made to replace the roof, it is good to know that the process is extensive. First, the thatchreed must be removed from the roof and demolished. The removal of a thatched roof must be done correctly and competently so that the thatcher can ensure that a quality new thatched roof can be installed.
We offer our services around the demolition and removal of the thatched roof; we also take on the task of waste disposal.
Costs to replace a thatched roof
The cost of replacing a thatched roof is approximately 95 euros per square metre. These are just the costs of installing the new thatched roof.
Costs such as waste removal, renting a container or removing and dismantling the thatched roof are not included. You can contact us for these services. Using our services around waste removal and disposal will ensure that you have an average cost saving of €250. This ensures you a quick and cost-effective settlement.
To replace a thatched roof, there is a possibility you are entitled to funding in some cases. This applies to thatched roofs on monumental properties or already existing thatched properties. In addition, the chance of funding also varies from one municipality to another. For more information on funding, please get in touch with the municipality where you are located.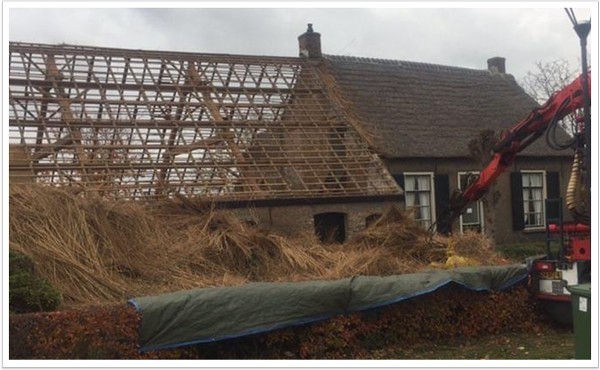 From tiles to a thatched roof
If you want to switch from a tile roof to a thatched roof, you start by applying for a permit. This has to be applied for at your local council; in doing so, they look at the rules of the Building Regulations and decide based on this whether you will get the permit to install a thatched roof or reject the permit.
For example, a key point in these regulations is that a roof should not have a combustible roof covering if it is closer than 15 metres from a plot boundary. Fortunately, for making thatched roofs fire-retardant, a solution would be to opt for a fire-retardant coating.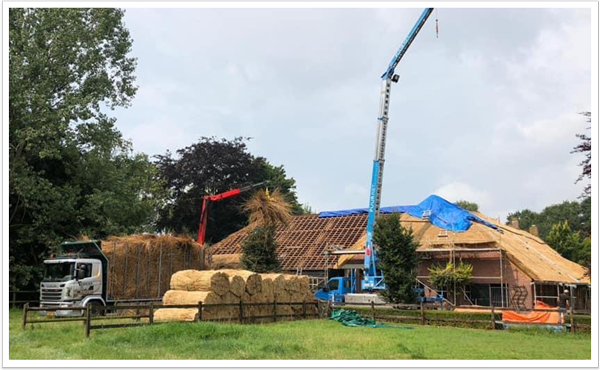 From a thatched roof to roof tiles
Should you have a thatched roof and you are considering having your roof replaced by a tiled roof, you will also need to go to the local council first to apply for a permit.
This permit requires looking at the house's supporting structure. This assesses whether the load on a tiled roof fits the supporting structure of the house. Should you get an agreement from the municipality in this regard, it is essential to ensure that your thatched roof is dismantled and disposed of properly.
You can come to us for that too.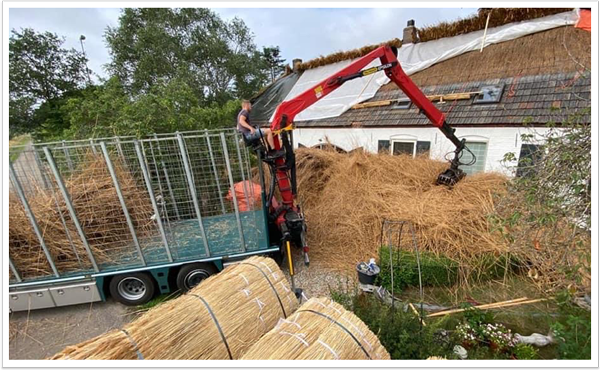 In short Let us help you get rid of the nastiest part of thatching as quickly as possible!