Algae and moss control on thatched roofs
Algae and moss. Two unavoidable natural phenomena that adversely affect the life of a roof. Under algae and moss, fungi such as soft rot and mushrooms have every chance to grow. Since these fungi live off one of the main components of thatch (cellulose), this is very detrimental to your thatchreed. In short, if you maintain your roof poorly or not at all, it will have negative consequences for the lifespan of your roof.
Enjoy your roof longer
Let us help you enjoy your roof longer by fighting algae and moss. Our thatchers specialise in injecting your roof cleaner. This will make your roof resistant to algae and moss for at least one to a maximum of two years (depending on environmental conditions). This way, you will enjoy your roof longer and avoid the high costs of cleaning and beating your roof.
Want to know if your roof needs to be injected (again)? Or would you like to learn more about costs and how our thatchers work? Don't hesitate to contact us immediately!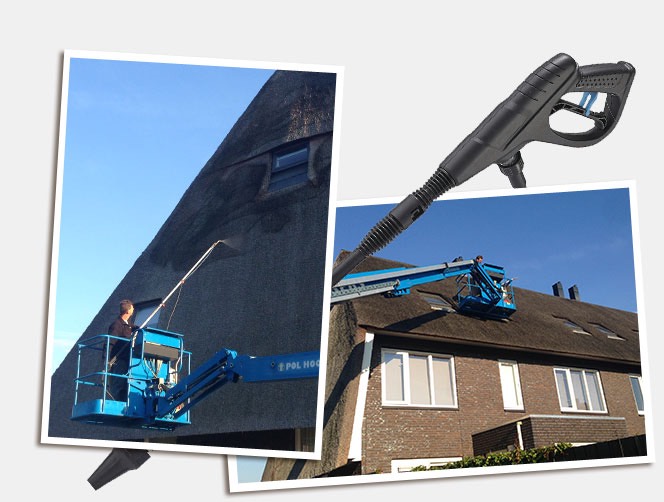 Is your roof full of algae and moss?
Then, unfortunately, treatment is not enough. Your roof should first be made algae and moss free by cleaning and beating the roof. However, cleaning a thatched roof is a profession and cannot be done by just anyone. Do you want to make sure you are dealing with a professional thatcher? Feel free to call or email us. We are happy to put you in contact with skilled thatchers and quality in their work.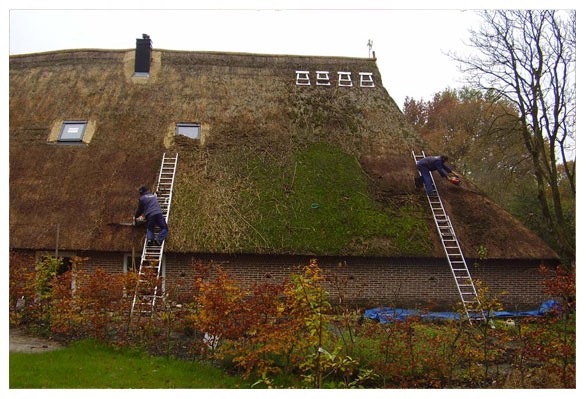 Interested? Enquire about the possibilities. We will be happy to help you!